From his role at one of the largest children's hospitals in the nation to serving as an intern for a local child advocacy center, public health senior Joseph Lupski uses his skills acquired at the Texas A&M School of Public Health to pursue his dream of becoming a health care administrator at a pediatric hospital.
Coming from a family deeply involved in the health care field, Lupski always had a passion for improving the lives of others. He applied this passion during his internship with Texas Children's Hospital in Houston, Texas, where he served as a project intern coordinating tumor sample requests and investigating toxicities associated with cancer therapy in a cohort of leukemia patients.
"My internship with Texas Children's Hospital was an amazing experience. I was able to observe and learn from different departments ranging from research coordination to social work," Lupski said. "One of my most memorable and diverse moments of this internship was participating in musical therapy. As a volunteer, I helped children compose songs while they were waiting for their appointments. I felt privileged—especially as a student who personally loves to play instruments—to spread the love of music and comfort these patients."
After a successful internship with Texas Children's, Lupski spent the fall as a counseling services intern for Scotty's House, a non-profit Child Advocacy Center (CAC) that collaborates with Child Protective Services (CPS) and law enforcement officials to provide victims of child abuse with safety and healing.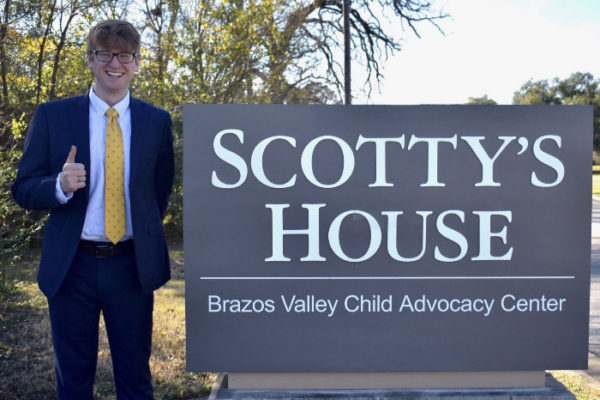 "As a counseling services intern, I was responsible for watching children before their therapy sessions," Lupski said. "It made me realize these children were no different than any other child, even after a traumatic event had happened to them." This internship also allowed Lupski to observe multidisciplinary team meetings attended by law enforcement, counselors, Child Protective Services and Scotty's House staff.
"It was wonderful to see so many different organizations come together to protect these children and help them move forward," he said.
With two successful pediatric internships under his belt, Lupski will graduate this May with a Bachelor of Science in Public Health, and he hopes to pursue a master's degree to achieve his goal of becoming a health care administrator at a pediatric hospital.
"I love how this major provides students with an opportunity to have a positive impact on the physical, mental and emotional health of people in society," Lupski said.
"The School of Public Health has a great curriculum that allows students to explore various avenues of public health," he continued. "I have had professors who have served in the Peace Corps, Save the Children and Texas A&M's Veterinary Emergency Team. Each professor added their unique experiences to the classroom and I am thankful to have had the opportunity to learn from them."
The post A holistic approach to health appeared first on Vital Record.